As you guys know ,from my last Friday Free for All post, I am now a Brand Ambassador for Graham and Brown.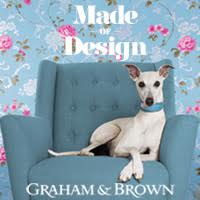 They really are amazing and so are their products. They have this awesome feature on their site that gives you decor suggestions, what's hot now, and just general "how to make your space look pretty" advice. They also have this super cool feature that tells what's trending from month to month.
Like this months trend is EUREKA. This trend is all about injecting color into your space, being bold, and making a statement. I have put together a mood board for you all to see my plan for injecting more color and boldness into my craft room.
1. Smile Photo 2. Wallpaper 3.Desk 4.Pendant Lights 5.Arrow 6.Star
Don't you love that wallpaper?? It's gold frames, it would be perfect for an inspiration wall. I LOVE IT. Also, the lit arrow and star…SWOON. They are so cool.
I'm so excited about finally getting my craft room finished. It's been a long time in the making and it's going to be so nice to be able to work in such a bright, fun, and inspirational space.
Could your home use a little EUREKA? I know it's super easy to jump on the neutral train, it's safe there. I think you should challenge yourself to add some color. Wall art and pillows are the easiest way to do it. Graham & Brown have PLENTY of those the hard part is making a decision. Hope you guys enjoy this months trend as much as I do! See you next month for more inspiration from Graham & Brown. Have a GREAT weekend!
*This post has some affiliate links in it for my full disclosure policy go HERE: