No kidding, I'm probably one of the most scatter brained people in the history of man kind. I realize that's a large statement, but I'm quite sure it's true. I'll start working on one room see something that would really look good in another room, start working on it, then build a table no one needs, you following me here? Good me either. That was just a glimpse into my daily life, scary huh? Then, along comes Polyvore in all it's glory. Praise the lord this site is UH_MA_ZING! Not only can  you build the sweetest little outfit you didn't even know existed , but you can then design a room to sit in wearing said outfit. I KNOW RIGHT??!! Anyway Lets get on to the meat of this post. My sweet precious sister Is coming back home from Tennessee with my gorgeous nieces and her husband. They will be staying with us until they decide where, what, and when. So me being me I am embarking on making one of the coolest little Girls rooms I can Imagine. Enter Polyvore.
See!! FABULOUS!! it looks just the way I wanted it to. I know they are going to love it. Not only is it a blast to build these rooms,it's super easy,and really helpful. This picture will be like a check sheet for the projects I have in mind to do in here (which I will be posting of course). It's also helping me get a handle on my living room. I re-arranged my furniture and now have this HUGE blank wall and am trying to figure out what to do with it. After playing around a while on Polyvore I believe I'm going to go with the trusty gallery wall. That's always my favorite.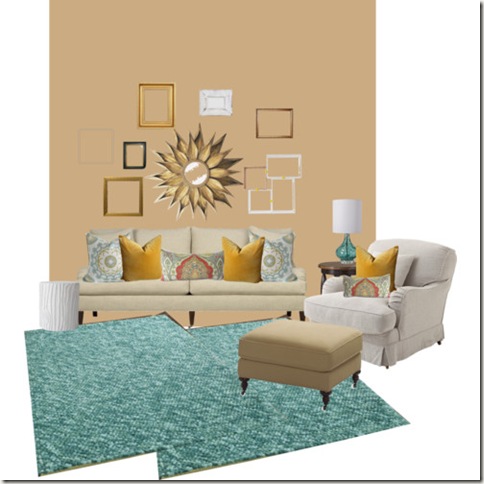 Nice Huh?? Super easy too! Just need a new rug and maybe come up with a nice DIY sunburst mirror. Lurv It. The best part is you don't have to be a professional to use it. This program is very user friendly. All you have to know is what you like. After you get that figured out you just drag and drop!
Thanks for dropping by! If you have any questions just leave a comment and I'll do my best to answer.
-Stacey