This is exactly why I don't throw things away. These drawers came from the Buffet Turned TV Stand, and of course as we were cleaning out the garage the man part In all his glory kept saying "Just throw these away! You're never gonna use just drawers!" Ha! I showed him. For those of you who don't know, my Sister, Brother-In-Law, and Their 2 kids are staying with us temporarily. So I took it upon myself to make the coolest bedroom eva for my sweet nieces,who are 5 and 7. This is just the first of many posts about this room, I'm so excited!!! I know, I know, Get ON With IT!!!
+++This post contains affiliate links for your convenience. You can read all about my other policies HERE+++
What you will Need:
The Drawers (obviously). They can be what ever style or kind you wish. You can Also do as many as you like.
A level ( I suggest it be at least a 2ft level so it can span the width of the drawer)
Adjustable Clamps. We used these to hold the drawer in place, you may have a better set-up and not need them. Once again totally up to you.
A foam Roller (for cabinets and doors)
Spray Paint.  I chose to use spray paint because it's quick and easy, covers smoothly, and it was what I had on hand.
A 3FT 1"x1"  Piece of Wood. This will be cut down to Six – 5" pieces to make the cleats that hold the drawers to the wall. I cut mine to 5" Because height of my drawer was 6", and I left a 1/2" gap on top and bottom to center it.
A package of wood screws.(The size of the screw will totally depend on how big your drawer is, how thin the wood is, and what you plan on storing in your shelves).
A Package of Drywall Anchors. I used 2 per cleat to be sure it would hold. Can't be too safe.
Now the How-to Of it all:
Remove all of your drawer hardware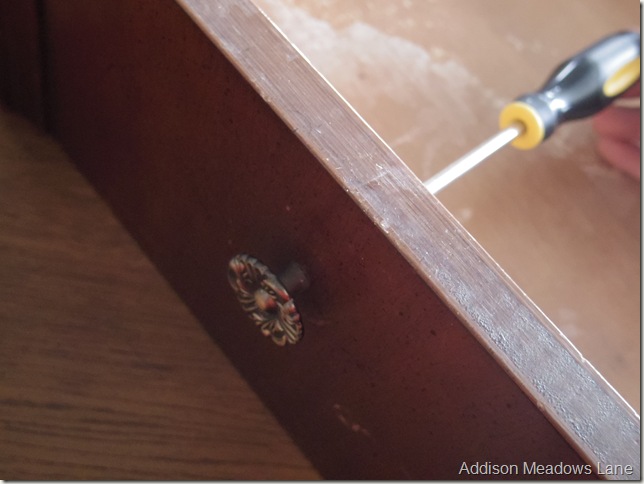 Measure from the front of the drawer back 6" on all the drawers.
Mark all the way across the bottom of the drawer, with a pencil or marker whatever is easiest for you to see.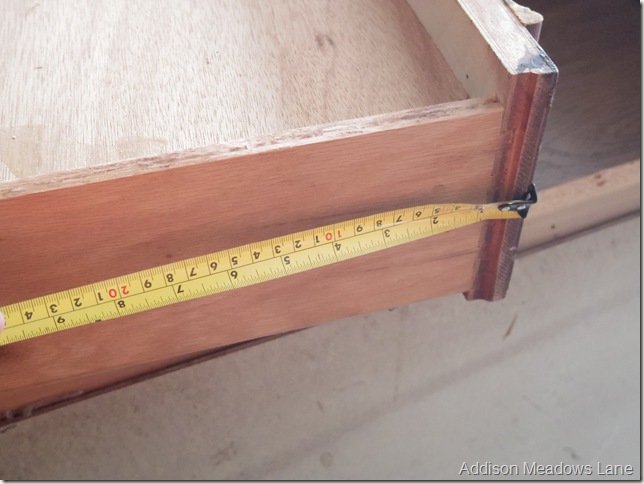 Clamp the drawers down to be sure they don't move while your cutting.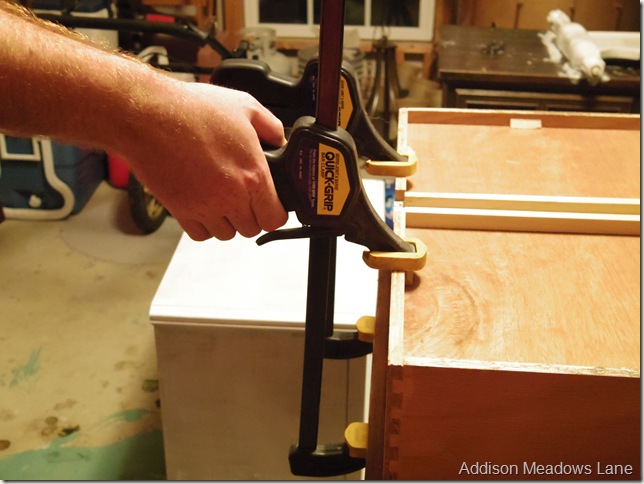 Take your circular saw and cut across the line you marked. (Sorry I didn't get any action shots Just showing what a circular saw in fact is.)
Since you have your saw out it would also be an ideal time to cut your cleats to hang the drawers. This is not an exact science, everyone's will be different. You'll just have to measure the height of your drawers and plan your cleats accordingly.
Once you've cut your drawers it's time to prime them.
I used an oil based primer so I wouldn't have to sand them. Let your coat of primer cure overnight for it to be the most effective.
 
Now it's time for the fun part! After your primer is dry it's time to spray paint your drawers. I did mine in kind of an hombre color scheme.
The first drawer is Krylon Color Master Satin White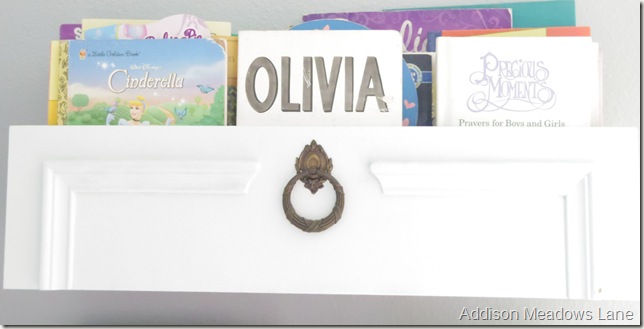 The second Drawer is Krylon Ocean Breeze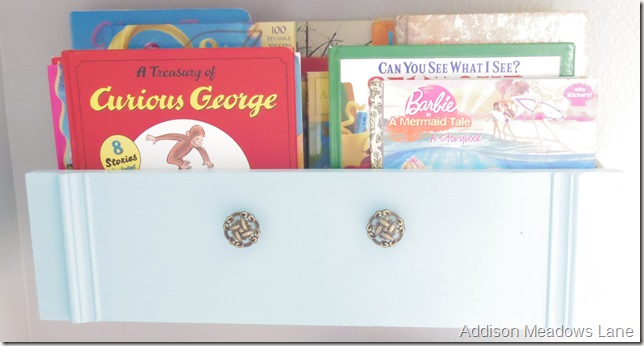 The third Drawer Color Is Valspar Mediterranean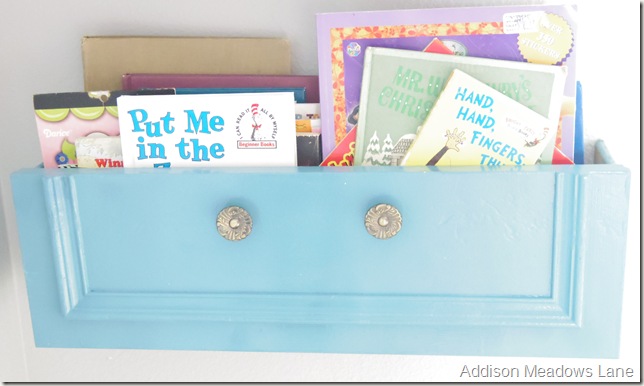 After the drawers have dried re attach your hardware, and it's time to hang them.
This isn't very technical. I just held the first drawer where I thought I wanted it with a 2 ft level on top, then traced the inside of the drawer on the wall.
I then measured my mark and centered the cleat.
To hang the cleat I used the Drywall anchors.
After the cleats were secure I held the drawer up again with the level on it and attached it to the cleats with the wood screws.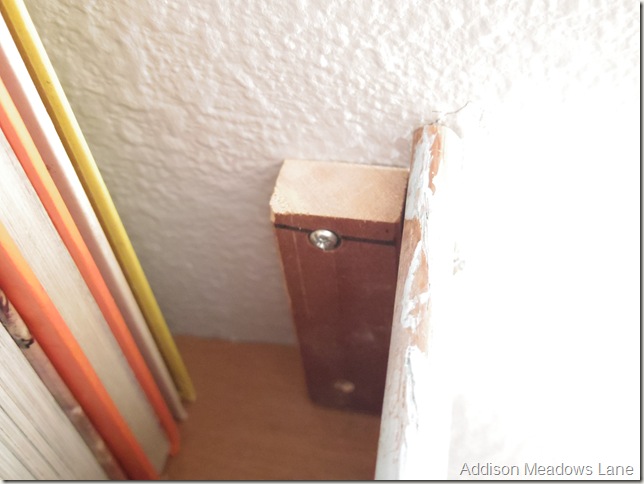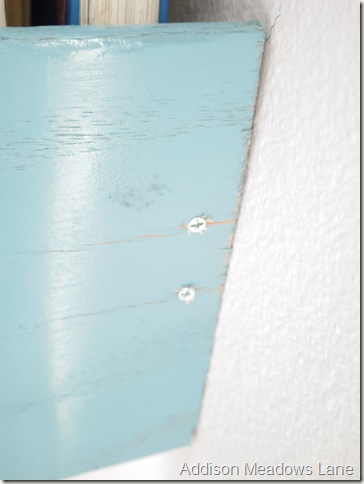 And that my friends is how you turn drawers into shelves!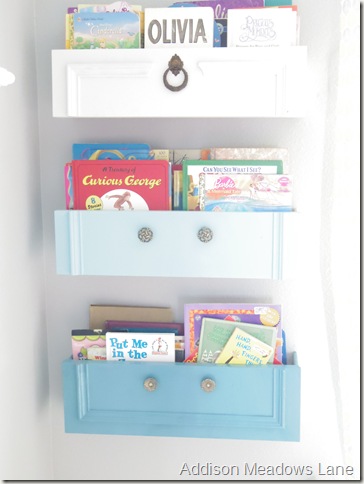 Hope you got all you needed! Please if you have questions don't hesitate to ask.
-Stacey
I'm Linking Up Here: