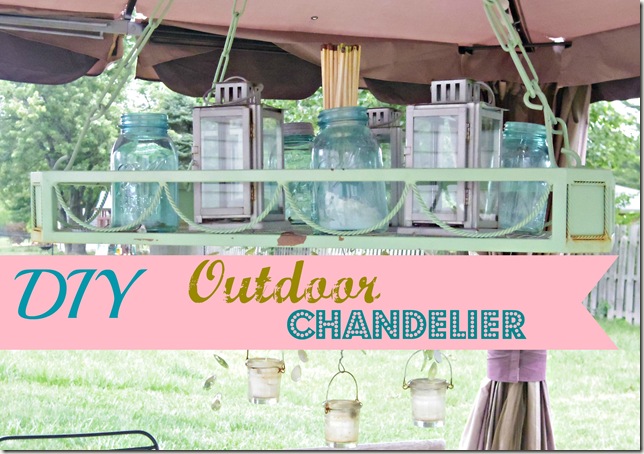 NOthing says party like a chandelier! This is one of the easiest and cheapest projects I've done.
What you'll need:
A pot rack. I found mine on craigslist for 10.00 it doesn't really matter what color it is, you should mainly be concerned with the style of it. an ideal one would be like mine that would hold items on top as well as hang from the bottom. (can't find my before image but it was kinda like the one below)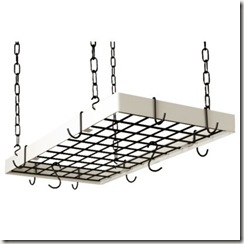 A can of spray primer.
A can of spray paint in any color you choose. I chose Krylon pistachio green
A roll of chicken wire. This may not be necessary for your pot rack. The squares on mine were really far apart so I couldn't set anything small on the top.
Some strands of gems and jewels to adorn your chandy with. I got mine from Hobby Lobby. Any style /color will do it's all up to what you want.
Some bendable wire.
Glass Tea light Jars
The how to of it all:    * The first 2 steps may not be necessary for you just skip them if you don't need chicken wire.*
1. First Lay Your chicken wire across the top of your Pot rack and cut it to fit down inside it.
2. Secure it with the roll of bendable wire. I attached three points down each side and three down the middle.
3.  Clean The entire rack off including the chains that hold it with a degreaser I use 409.
4.Prime the whole thing including the chains with your spray primer. Let it cure for at least 4 hours.
5. Spray paint the entire thing which ever color you chose. Let dry overnight just to be sure the paint gets nice and dry.
6. I then distressed it. I took a wire brush to it and chipped some of the paint off. This step is completely optional, but ya'll know how i LURV my chipy painty rusty things!
7.  And now for the fun part!! Decorate It!! I hung three glass tea light Holders from the bottom with the same wire I used to secure the chicken wire.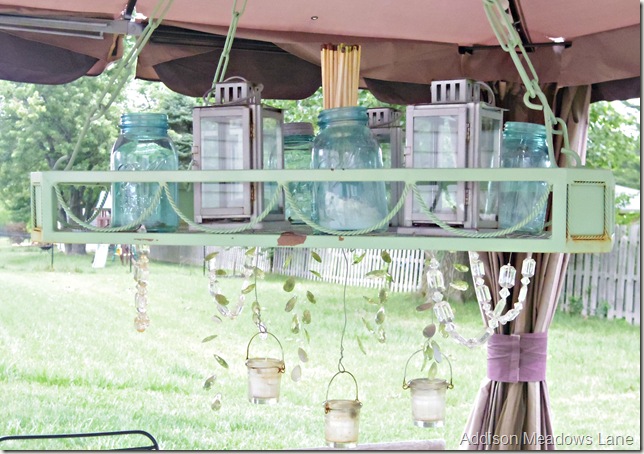 You can literally put anything you want on it. Succulents look fabulous, and do well under the gazebo. I already had all the jars and lanterns so this chandy cost me 20 dollars total, and in my opinion is waaayyy Better than the over priced boring ones at all the stores. Now for some more eye candy……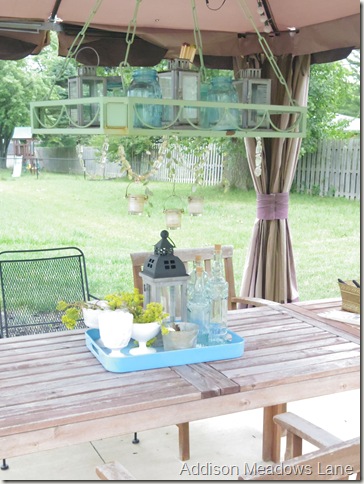 OOOOOHHHHHHHHH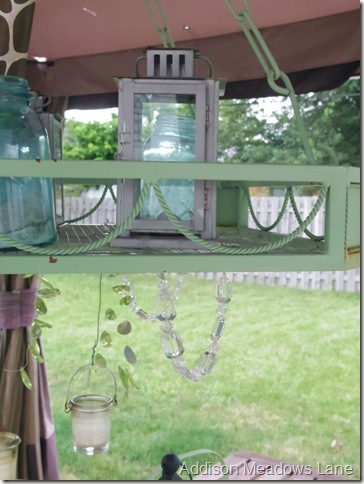 AAAAAAAAAAHHHHHH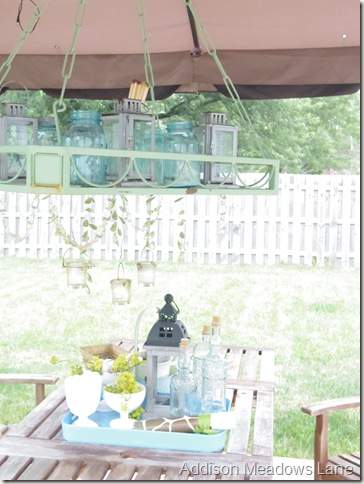 Oh you want a night shot too??!!?? I guesss……
SWOOON. I'm so in Love with this chandelier it's silly! I just hope I see some people do their own! If you do please be sure to let me know so I can check it out!
If you have any questions or need any help or feel like I missed anything please don't hesitate to comment!
-Stacey