Hello everyone! I'm so excited to be doing the "Tour Through Blogland" Tag. It's been going around for a while and I love seeing how other bloggers thought processes work, and how they come up with some of their awesome Ideas. I was tagged by Ms. Corinna over at For My Love Of she's so awesome! I love everything on her site. I was so pumped when she picked me.
Everything Corinna does is pretty much awesome, Like these Gold Duct Tape Curtains. Uh hello genius!! I'm so going to do this in my Craftroom they are too awesome, and her Painted File Holders along with the rest of her craft storage are beautiful. If you haven't been over to check her out you are definitely missing some wonderful projects.
What am I Working On?
Well right now I'm currently working on my Craftroom. I'm still in the beginning, stages we just ripped out the carpeting and are going to be refinishing the concrete floors like Mandy did over at Vintage Revivals.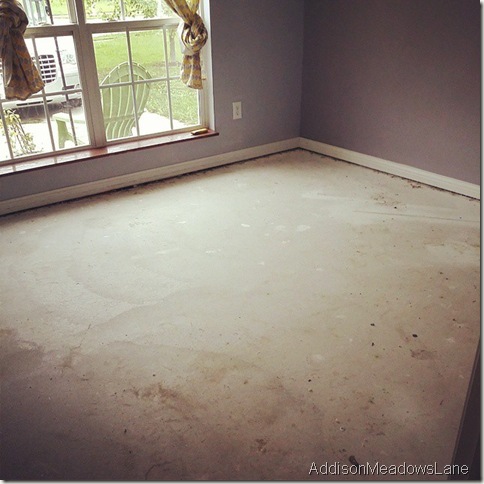 I'm really excited about finally having my own space to get my creative on. LOL and also so The Beard won't yell at me for getting paint everywhere in the house,garage,driveway,yard,pretty much anywhere I find a space to work lol. I've also decided to open my own sign shop on etsy. This makes getting blog posts up regularly a little harder than usual. I've been working non stop on trying to get my inventory built up, for a few craft shows i have coming up.
How Does My Work Differ From Others?
I,unlike a lot of other bloggers, have a full time job that I go to everyday and I work about 10 hours a day. So it's much harder for me to get my projects done in the few hours I have at night when I get home. Most everything I do is to show people you don't need a lot of money or time to make your house beautiful. Every project has cost me little to no money and that's just the way I like it. LOL For example my Best friend in the world acquired an old laminate hutch that wasn't that great to look at and with a little bit of work and some paint it turned out gorgeous. Here's the full tutorial.
These are my favorite kind of projects because they're easy and cheap and make a huge impact on your space.
Why Do I Write/Create What I do?
I think the main reason I do what I do is to express myself. All day at work I'm doing what other people want me to do. It's nice to come home and be able to make things the way I want them. I think another reason is to help other people understand that you don't need a million dollars to have a home that looks like a million bucks. you just need to be a little bit resourceful and willing to put in the work. My house has come such a long way in the past few years it's quite amazing actually, and its all due to the awesome bloggers I started following. For that I'm so grateful, so I thought maybe I could help out someone just like me someday by putting my ideas out in the world.
How does my writing process work?
I don't really have a process per say. I get an idea and try to execute it to the best of my ability. I'm probably the most disorganized blogger ever. There's really no rhyme or reason to the things i do I just do them. LOL I know that's probably not what people expect to hear but it's the truth. Which Is why I'm only Choosing one blogger to feature. 3 Just didn't feel right I think choosing one is much better and gives the chosen blogger a much better spotlight. That being said Here's my featured blogger.
I Tag:

Brandy from BD Design. Her site is absolutely wonderful! Like this super cute crate that I love! These Gold Striped Napkins are so cute and super easy. She also makes some of the cutest signs and sells them on Etsy you have to go over and check out her Shop.
I hope you all enjoyed this little behind the scenes look. Please be sure to go over and check out Brandy's "Tour Through Blogland" Next Monday 9/15/14.
Thanks for dropping by!