I Don't Know about everyone else but more than not I have to take a step back and reign in all my ideas. I start going and don't stop sometimes it's great but mostly  I just end up with an incohesive mess. These are times I look to Pinterest, to help me focus and realize people have to be able to get in my door, lets dial it back a bit. haha. These are just a few of my favorite entry ways I'm drawing my Springsperation from. Hopefully I'll be able to stop teasing you and have mine up by the end of this week!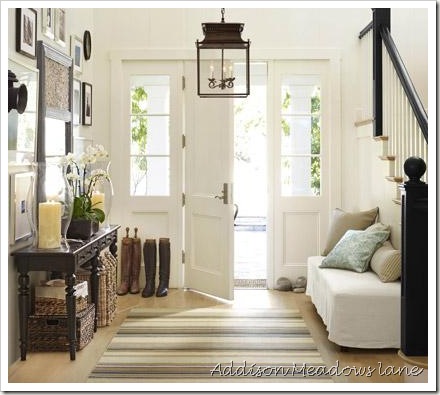 I absolutely Love the light fixture in this foyer! ( Future D.I.Y. I think!) Also the black railing against the neutral background is very nice. The Man Part is going to be thrilled when i recruit him to help me paint the front door black! HAHAHA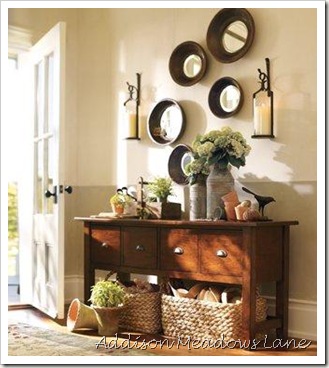 You can never go wrong with mirrors and baskets so many uses for both.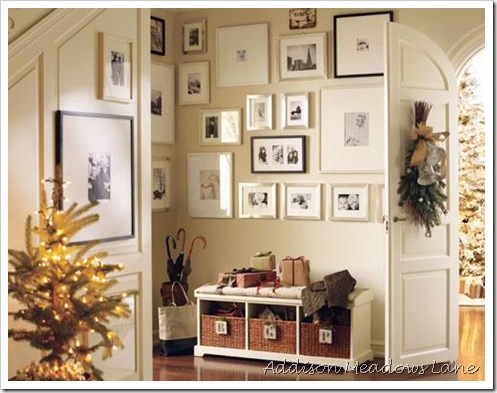 MMMM…..Gallery walls, I love all things gallery wall.
Last but not least Hydrangeas and Blue Mason jars A.K.A. HEAVEN! You Could make a cardboard box look like a picture out of a pottery barn magazine with a few mason jars and some hydrangeas no joke I L O V E them!  Have a wonderful day, and for all you people who are practically snowed in just like me just remember Spring Is around the corner!