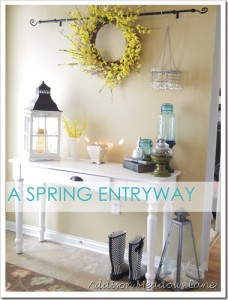 So in light of the fact we are getting anywhere from 6-12" of snow on Sunday, I think now is as good a time as any to Spring up my house before I loooose it!
I love for my entry to set the tone for the rest of the house. It may be super crappy outside but in here Spring is Springing!
I have a few tips on decorating a table,dresser,or a shelf.
Books,books,books! I love old books they can be used to set things on or just as a visual interest on their own. You'd be amazed at the beautiful old books people let go at garage sales for practically nothing!
Lanterns! A lantern, no matter what size, can be worth it's weight in gold, when decorating. The amount of things you can do with a lantern are endless. Not to mention I'm obsessed with them!
Mason jars, as you can see in the picture above, I used a mason jar inside the lantern instead of a candle A.) because I didn't have any yellow candles laying around, and B.) when I put that jar in there I imagine it was a lot like the day someone put chocolate with peanut butter. Lantern + Mason Jar = MIND BLOWN!
Mason jars are a very versatile accessory.(especially the blue ones they're my fave!) You can set them anywhere or fill them with anything they just really give your display another point of interest.
Another key element is layering. Use different shapes, colors, and textures whenever possible. No kidding I probably moved everything on this table 20 times before I was happy.
Always try it! Even if you know it's not going to work, the arrangement may get your wheels turning in a different direction that will lead you somewhere wonderful!
DIFFERENT HEIGHTS! I Cannot stress enough how important it is to not have everything in a straight line. Straight lines are boring don't do it!
Don't be symmetric, be balanced there's a difference. Symmetry means everything on either side of a middle point are exactly the same. Balanced is like what I did in the picture below. I know my lantern Is huge so I had to make the other side seem equally filled just with smaller objects.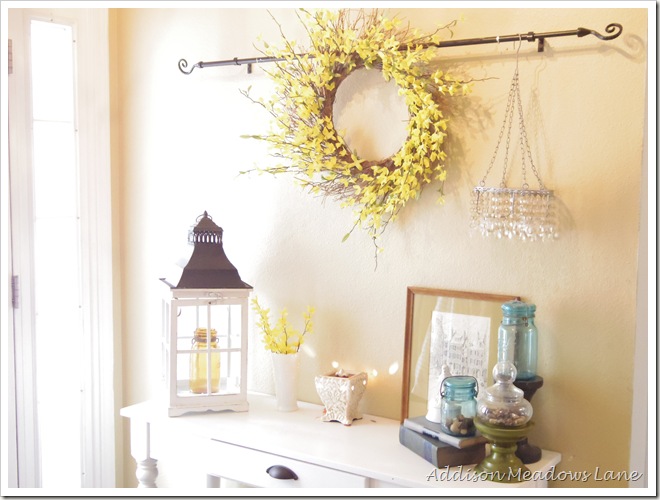 Really the secret to a great display be it a shelf, table, or anything for that matter is Display things you love. No matter what it is if you like it, display it!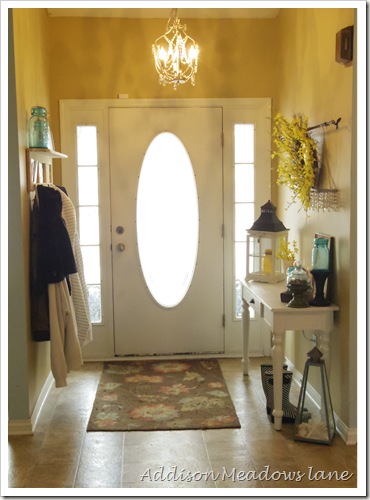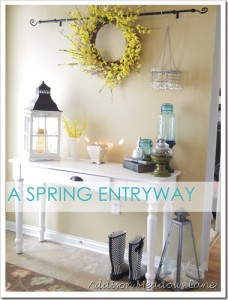 I'm Linking up scotty! here