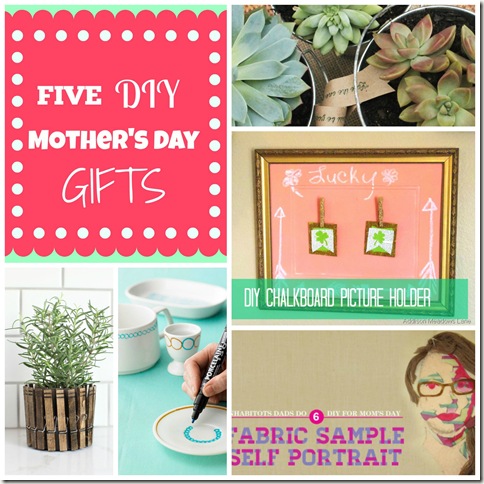 I know I'm not the only person that waits until the very last minute to do things. Well maybe I am ha ha, If not then here are some super simple and really cute last minute Mother's day gifts.
(Going Clock Wise)
1. In Honor Of Design Did a gorgeous job with these succulents, she also offers a Free Printable For you to include. Succulents in a cute container are always a cute and easy option, not to mention succulents are extremely easy to care for. You can get so creative with the containers you put them in, also they're usually only a few bucks a piece Lowes or Home Depot.
2. DIY Chalkboard Picture Holder I did this one with my nieces for my sisters Birthday. She loved it, but it would also be a great one to do for mothers day. It's very simple and the girls loved helping.
3.Inhabitots Fabric Sample Self Portrait This is so cool! I have so much scrap fabric laying around and this would be the perfect way to use it. These could actually be framed and hung on the wall. You could even give the kids coordinating fabric that matches your living room. LOVE IT.
4.Better Homes and Gardens shows you how to make your own pattern on dishware. This is so fun and has so many possibilities.
5.7th House On the Left Did a super awesome job with these little herb planters. It's amazing what you can do with a tuna can and some imagination! LOL
So there you have it some last minute cheap and fun Mother's Day Gifts. Please if you decide to do one of these let me know so I can see the finish product!
Thanks for stopping by.
-Stacey