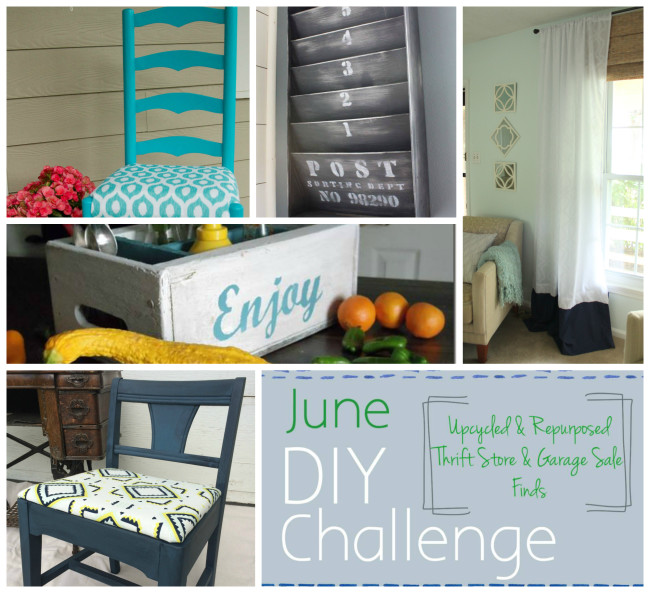 Happy Monday! So I have had the privilege of joining some pretty awesome ladies in a monthly group challenge. What we'll be doing is deciding on a topic then each of us will over haul,fabricate,or salvage something. Evry Month It's so much fun.
This months challenge had to do with upcycling/salvaging thrift store or garage sale finds. Well I thought my little salvaged wood caddy I found in the Parking lot of K-Mart would work Perfect for this. YOu have to make sure you check out everyone elses awesome projects at the top of the page.
I've wanted one of these FOREVER, but they're kind of pricey. So I was living in a wood caddyless world and it wasn't cool. Then BOOM! I'm in the K-Mart parking Lot and I spot this bad boy just sitting out in the middle of the lot!

Yeah I know!!! Someone just left this poor guy all alone. He was just waiting for me to come. I'm pretty much a guardian angel at this point. lol. So I brought the crate home and went to town on it!
The how to of it all:
I brushed all the dirt and grime off of it then painted it with some white flat trim paint I had. (I purposely painted it roughly to make it look a little more rustic.)

I then got a piece of pallet wood I had Left from My DIY Towel Hanger and marked it to make inserts for the caddy. ( I marked them a little longer so they would be snug inside the crate.)

I chose to cut three so it would make a sort of H pattern inside the caddy. Also since they're removable I can make all kinds of different compartments. ( I used a circular saw to cut the three pieces.)

After they were cut I painted them and the bottom of the inside of the crate Tropical Oasis, One of my favorite colors.

While everything was drying I went to my computer and made a stencil for the side. I just went through and found a font I liked then printed it off.

I used an exacto knife to cut it out. Taped it down with painters tape then painted away.
I let everything dry then Hammered the inserts in and we're done!
You guys it still to this day amazes me what a little bit of paint can do to something. It turned out so perfect! Don't worry I took plenty of pictures for you 🙂

I just absolutely love it!!

It turned out so great! So many parties will be made easier by this little fella.
Thanks For stopping By
-Stacey
{I'm Linking UP Here and Here}