I know you guys have seen these old dated coffee tables at just about every garage sale or thrift store you've been to. I always pass them by, I could never really come up with  good way to up cycle one. Until now. When we purchased our King size bed we didn't get a head or foot board we decided we'd just make them ourselves. We have already finished the DIY Upholstered Headboard and the foot of the bed was looking mighty bare. My neighbor was moving and asked if i wanted an old coffee table and a side table, me being me, I said SURE, bring it on over! I honestly had zero intentions of using it (Sorry Dylan) but then The Beard and I were hanging in the garage one day and he sat down on it….. I immediately knew Exactly what to do with it. Turn it into an Upholstered bench! I love it when eureka moments happen, so fun.
This post contains affiliate links for your convenience. This means I'll get a tiny compensation for directing you to products I used at no cost to you. For my full disclosure click HERE
What you'll need:
The How To Of It All:
We cleaned it up with a degreaser and primed the bottom half. We didn't do the top because it will be upholstered. I didn't add any other paint or colors because I knew I'd be distressing it and I wanted it to have a chalk paint/matte finish.
When the paint was dry I took a hand sander to it and distressed it. I love how it turned out.

We covered the top with spray adhesive, attached the upholstery foam, and trimmed it down to size. We also added a layer of batting on top of the foam to make it look smooth when the fabric was attached.
We then laid the painters drop cloth down, set the coffee table on top , and cut it down to size. I didn't take any pictures of the upholstery part, I got a little ahead of my self and wanted to get it finished. We pretty much did the exact same process that we did on the DIY Upholstered Headboard SUPER EASY it took a total of about 3 hours to finish this whole project. NOt including dry time for the primer.
When it was done I added the baskets to both sides for added storage. They have chalkboard displays already on them so I wrote his and hers with a chalk pen.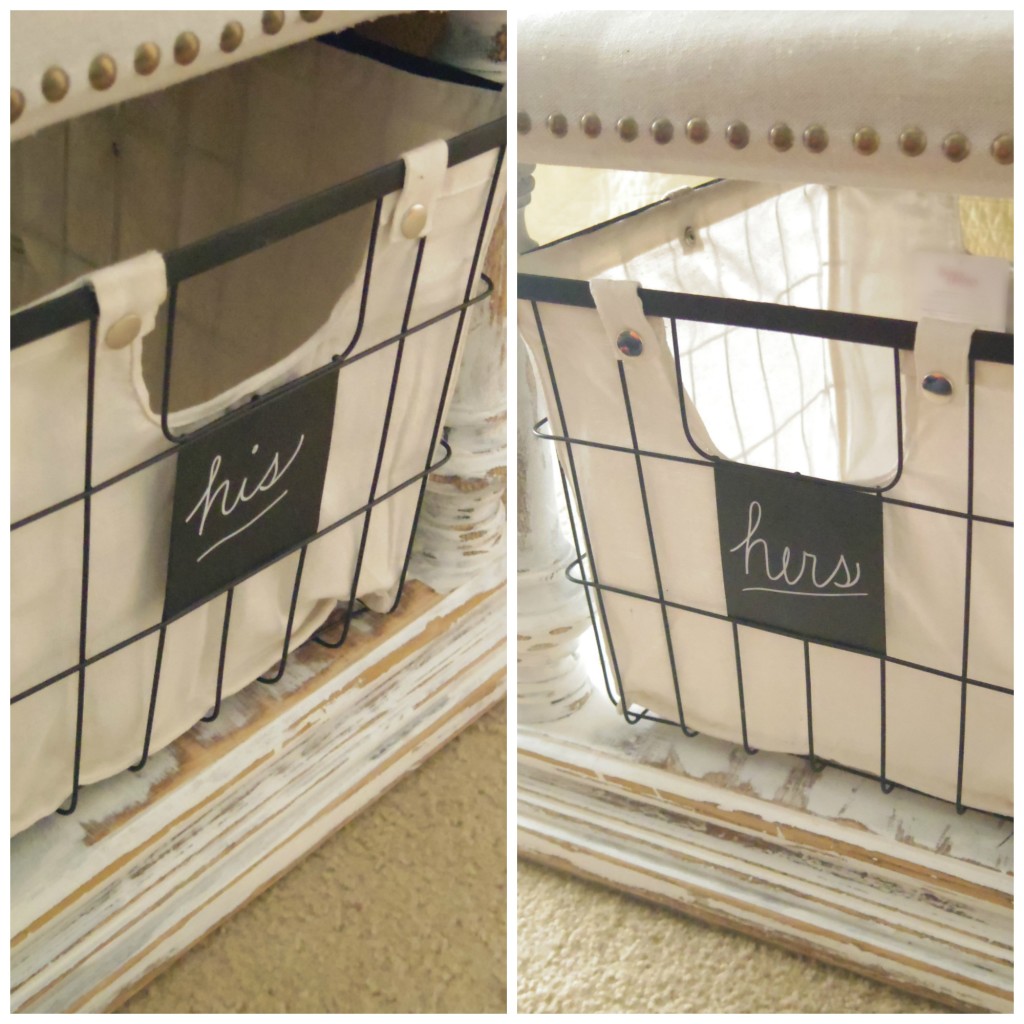 It turned out fantastic! It really finishes our bed and was so easy.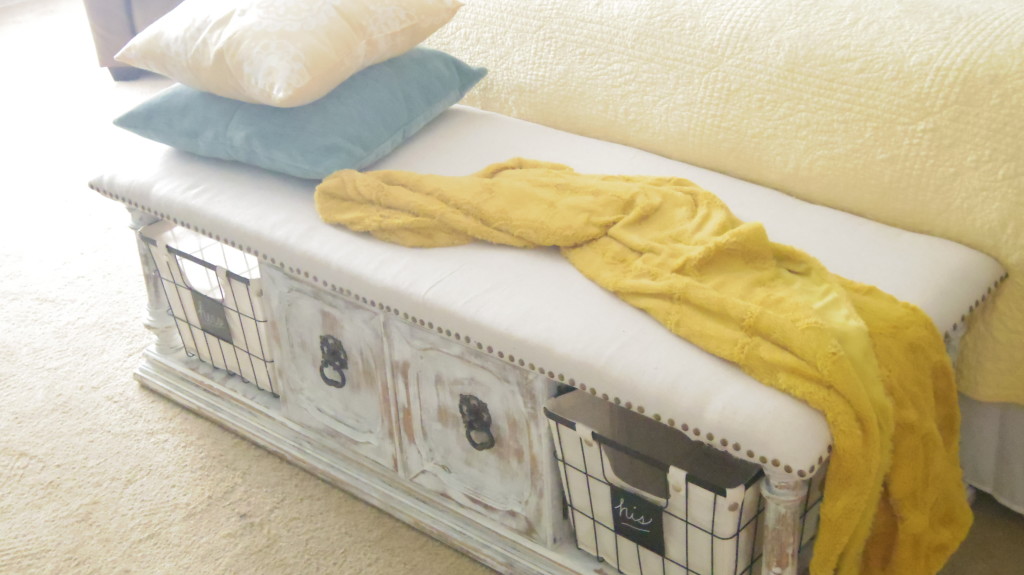 I just love it. It's such a HUGE change from where we started. hope you guys enjoyed our little upholstered bench makeover. thanks for stopping by!
I'll be Linking up HERE & HERE