I have a secret, I'm addicted to looking at real estate listings. I'm not kidding, it's literally my favorite thing to do. It's also where I get majority of my inspiration from. Most people turn to Pinterest, not me, I think some of the best Ideas I've had come from looking at real home listings. It helps you get a since of what things are really going to look like. So now that my secret is out and you guys now know my vice, it's time to tell you about my new favorite listing site. Compass. You guys. The homes on this site are insane. I saw so many homes with GORGEOUS closets and thought I'd show you all exactly how I come up with the inspiration from these listings by making a mood board based on a home that I LOVE. I've been trying to convince The Beard for MOnths now that we need to re-do our closet so maybe this will get us going on it.
The very first thing I did was start going through all of the listings, you can't even imagine some of these homes. They're so beautiful like this one.
Every room on this listing is perfect. Theres no shot of the closet but I'm sure it's Stunning. The style of this home is amazing and It's the inspiration I used to design my Dream Closet below
WOuldn't it be a dream to walk into a nice calming white space full of your favorite things?? I know it would make me happy. I would have little pops of color everywhere. Like this display of Hunter boots for example.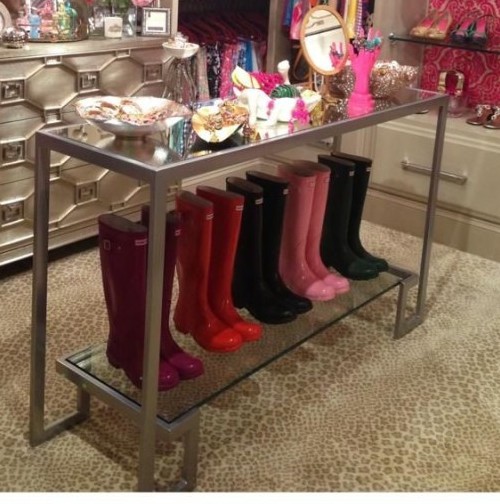 Or these gorgeous Kate spade boxes…SWOON.
I obviously do not have the space for a closet this size but I can absolutely take certain elements from it and spruce up my Own. Like those gold and white shelving units, the jewelry hanger, the storage boxes, and even the chandelier (a much smaller version) could absolutely work in my space. I just love being able to use Compass and see what's hot in decor trends by looking at all of their upscale listings. I mean a lot of these people pay VERY Expensive decorators to come in and design their spaces, it's almost like getting an interior decorator for FREE. Ya'll know I LOVE me some FREE. LOL. I hope you enjoyed seeing what My Dream Closet would look like. If you get the chance you really should hop over and check out the listings on Compass you won't be disappointed.
Thanks for stopping by!