Have you guys heard of Cutting Edge Stencils? Well if not, they are this amazing company that deals with high quality stencils. We LOVE their products. We used one of their stencil kits to do our Stenciled Concrete Floor, that turned out AMAZING. So when they contacted us and asked us to try out their Accent Pillow and Tote Stencil Kit we couldn't wait to get started! Also they're offering our wonderful readers the opportunity to win a stencil kit of your very own. Just go to the bottom of the page and enter to win!!
I have 2 gorgeous nieces that were so excited to make their own DIY Trick or Treat bags. You guys really don't understand how awesome this kit is. Here's what you get in the box.
Their packaging is so pretty to start with. Then you open it up and it has EVERYTHING you could need for your project.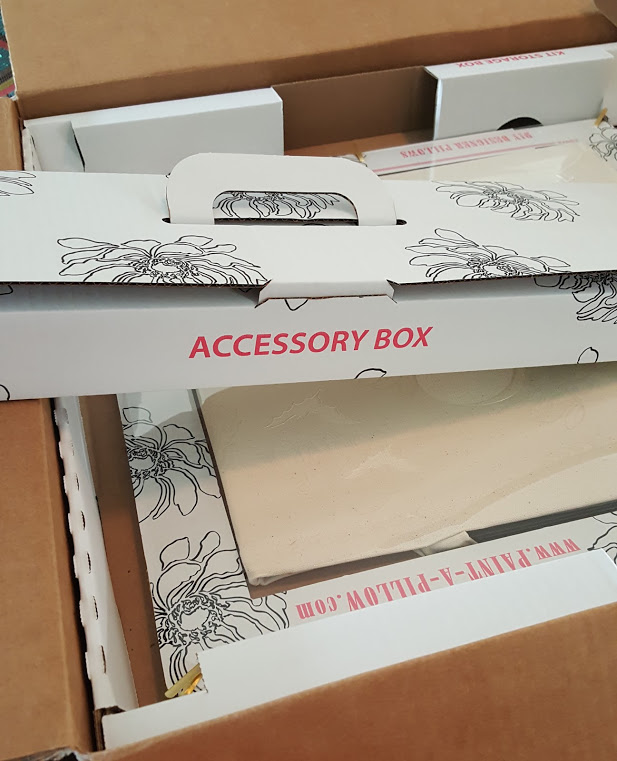 In the accessory box the included:
 1 Paint Tray
1 Roller
1 Stencil Brush
1 Paint Color Sample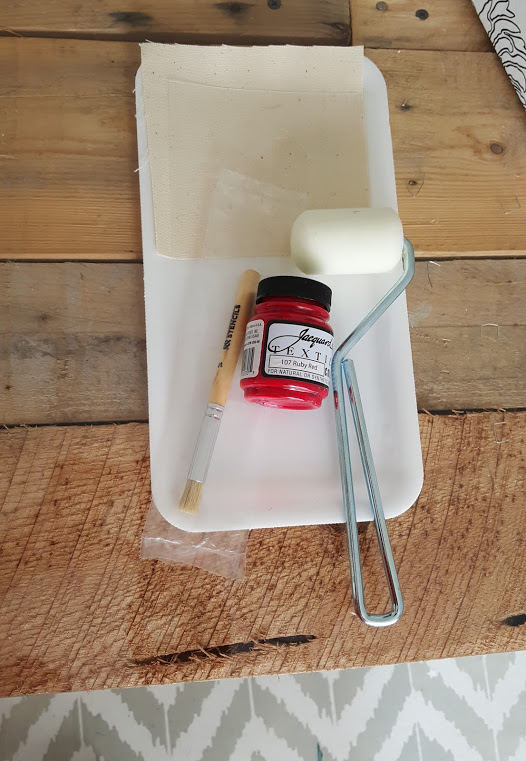 Stencil Holder This thing is so cool. It comes with your tote or pillow cover in the frame with the stencil attached by gold clamps over the top. It holds it steady for you to make your stenciling go much smoother. It's really such a good Idea. I was MORE than impressed with this kit.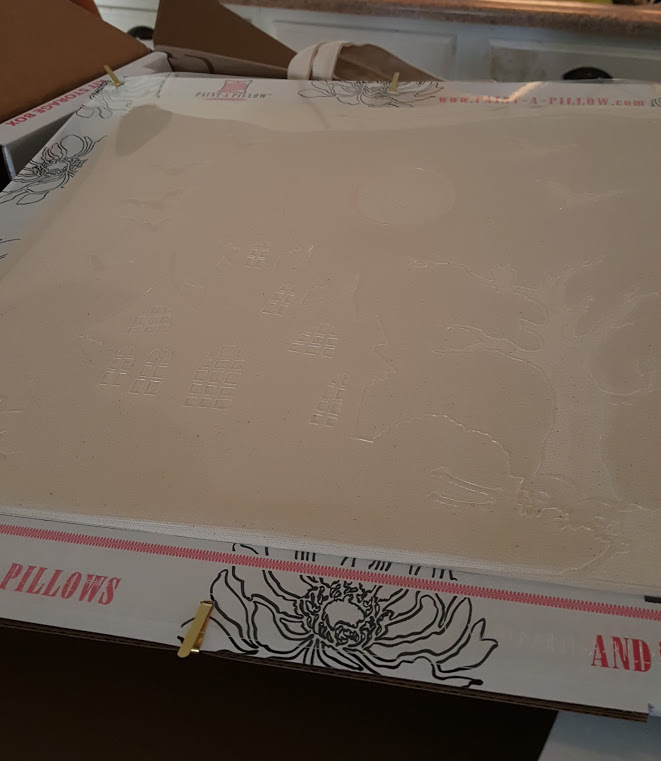 NOw that your box is unpacked all you have to do is rally the troops and get to stenciling! Easy as that. The kit comes with one color of your choice and of course my girls had to add all kinds of other colors. I just used latex paint because that's what I had. Fabric paint would be a much  better option. Just a FYI.
For the how to it's pretty straight forward. All I had to do was pour the paint out and let the girls go to town. They did such a great job. There were hardly any smudges or smears and the stenciled photos turned out pretty crisp.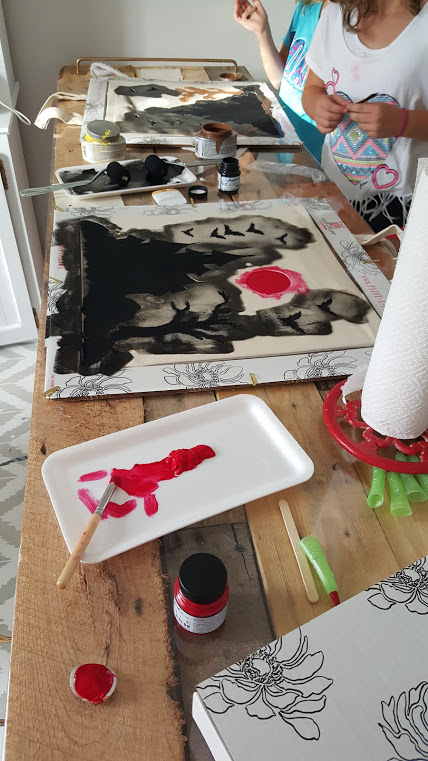 After the basic shape of the haunted house was stenciled we layed the insert back over it and added yellow to the windows so they would stand out. SO SIMPLE, and the girls had such a good time doing it.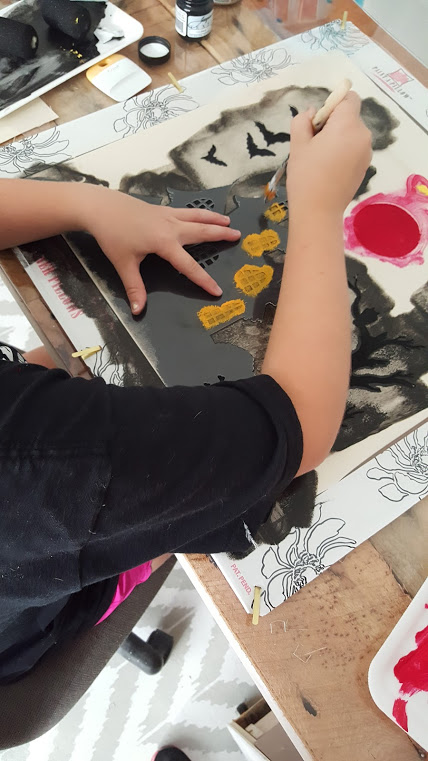 They turned out so great. Even if you don't win I would HIGHLY suggest buying one of these kits. There are so many different options not just Halloween.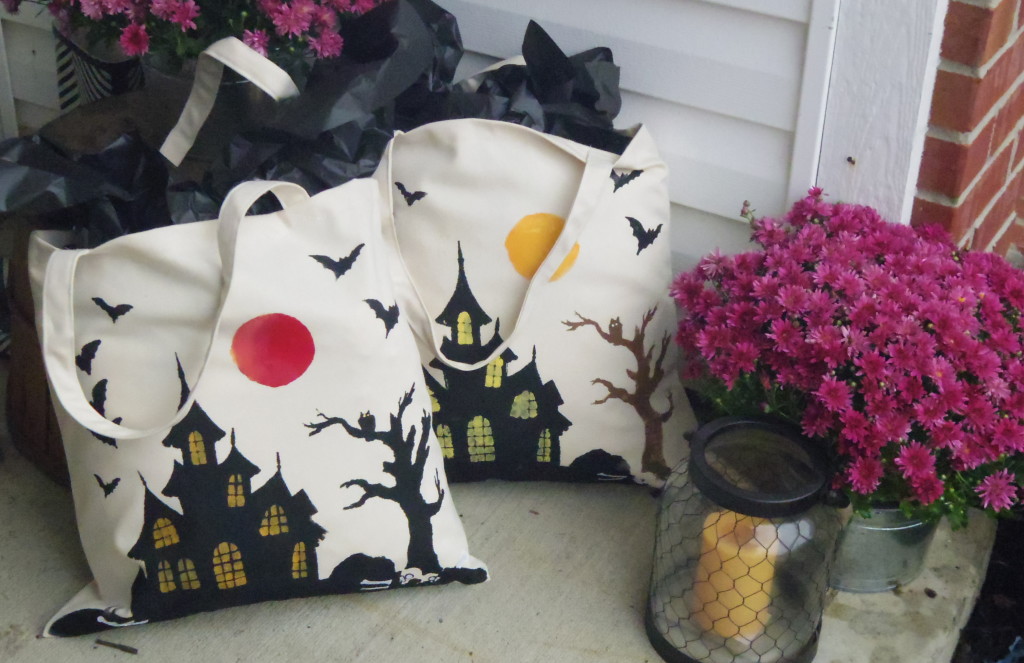 Now all you  have to do is ENTER BELOW to win your own stencil kit. GOOD LUCK