It's the beginning of a brand new year and I'm really trying to get my un-organized self under control. I mean ya'll really don't understand how bad it is. If it weren't for The Beard and his uncanny ability to keep me in line I'd be in so much trouble. I'm starting off in sections to keep my brain from getting over whelmed and shutting down. It really seems to be working.
This coffee area in my kitchen is a prime example. It was so cluttered, Not pretty, and needed help. 
BLECK!!! I know what you're thinking. WHat in the actual hell is going on here? Mismatched knives, an empty tiny jelly jar, and 30 boxes of K-cups….. I swear if I could take a picture of my brain this is exactly what it would look like. Hahahaha.MOving on.
To get this party started I had this Teal serving tray, I never use, that is the perfect size. But the color wasn't going to work.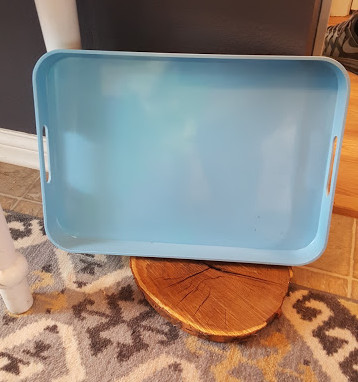 So I spray painted it gold. It turned out perfect! I also found a little gold spice rack at Marshalls for the K-cups and poured the loose coffee into a large mason jar. No more ugly plastic bucket on the counter. 
Turned out pretty cute right? It was such a simple thing to do and it makes my kitchen look much less cluttered. It really is amazing how doing one small thing can make such a huge difference in a space.
Thank you so much for stopping by!