Anyone that knows me knows I LOVE to throw Parties and Host guests. It's quite possibly my favorite thing to do.  So I decided to give you my 5 tips for getting your home holiday ready. You'll also be able to  Enter for a chance to win 1 of 3 BISSELL ProHeat 2X Premier Upright Deep cleaning Machines (below)
TIP #1
I always start with dusting EVERYTHING in EVERY ROOM (especially your guest bathroom and bedroom) from top to bottom. Some people vacuum first, but I think once you knock the dust off everything the vacuum will pick up the rest of the particles floating around. Dry Broom/sweep every floor that needs it.  In my home that would be every room but the bedrooms.
Tip#2
Clean all tubs,toilets,sinks, mirrors and counter tops. I like to do this before I mop just in case anything ends up on the floor it will be cleaned up when mopping.
Tip#3
We then move on to mopping/wet swiffering every floor that isn't carpeted. I also take this time to thoroughly clean my base boards. ESPECIALLY in my guest bathroom. I'm sorry but there's nothing worse than using someones restroom and looking down and seeing dirty baseboards with god knows what on them. You don't think people notice those things?? Think again my friend. Think again.
Tip#4
VACUUM- when I say Vacuum I mean EVERYTHING corners of the ceiling, registers,(for people who have central air/heat) ceiling fans, sofas,chairs,and especially your carpet. I usually start high like the Ceiling fans etc. Then sweep the carpets and rugs last.
Tip#5
Last but by far NOT LEAST. Shampoo The carpets. I can honestly tell you this is not my favorite thing to do. I never look forward to it but once it's done it makes the house look, feel, and smell SOO much cleaner. I'm really excited that this year we got to try out the 2X Professional Deep Cleaning Formula that Contains Scotchgard™  from BISSELL. It actually made Shampooing the carpets more fun, because the whole time I was thinking how awesome it is that this Cleaning formula will  prevent future stains. It has Scotchguard already in it, so when my huge family is over with drinks in hand. I can worry a lot less about my cream carpets and white rugs being ruined by red wine or food. How great is that??!!??
Not to mention the Fine people at BISSELL gave us this coupon so you can try any of the deep cleaning products yourself.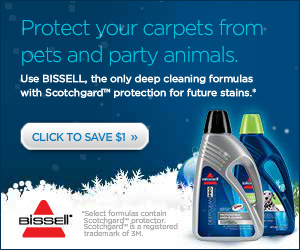 There you have it folks My top 5 cleaning tips for the Holidays.
Now on to the Fun Part!
You can enter to win 1 of 3 BISSELL ProHeat 2X Premier Upright Deep cleaning Machines
HOW TO ENTER:
1. Visit BISSELL   HERE to learn more about their awesome products.
2. Come back and leave a comment on THIS PAGE NOT BISSEL stating how the BISSELL Upright Deep Cleaning Machine with Scotchgard Protector Carpet Cleaning Solution would make your life easier.
That's It!! You're done. Easy Right?? Good luck I hope you win!
We'd also like to take a moment and Thank BISSELL for sponsoring this article.
*Please note, there will not be 3 winners per Storyteller. Rather than 3 winners from all participants.
The winner will be announced Monday, January 5th, and the Audience member will be notified through a response to their comment. You will have 5 business days (by 01/12/15) to submit your email address and claim your prize.
Thanks for stopping by!